A note about 3 more books of Alli's:
We are thrilled to announce that we are currently digitizing and updating all of her books into printable downloads and audiobooks! Please scroll through to find out more about each book. We invite you to send her a note about the book you want. Thank you for your interest! CONTACT ALLI
This high performance selling encyclopedia is the only one of its kind as it puts into words how to successfully perform and sell on command delivering measurable results. It is for the new and veteran guest experts, models, hosts, actors, speakers, sales and marketing professionals and trainers, athletes and other professional endorsers, teachers, college and university business and marketing professors and tradeshow sellers, vendors and worldwide shopping channel networks who need a training manual that will fully prepare the professional to sell live on-air with results. This is a coaching manual chuck full of:
• practical tips,
• anecdotal stories,
• advice from a myriad of experts
• useable at-a-glance charts to help readers thrive in new ways within their current professions and inspire them to push beyond their comfort zones right now. Readers will learn how to pitch themselves and products without boring, canned performances. They will get the nuts and bolts of what is required to delivering quality pitches and performances on command whether in the boardroom or live on-air around the world. They will learn how to be highly engaging and how to capitalize on their strengths, how to successfully audition and interview, prepare, perform, and close a sale under enormous amounts of time and performance pressures. The simple, straight forward format will help the reader navigate his way around with ease. Each section is a complete work in its own right with recaps at the end of each chapter. This helps the reader get the inspiration and answers they want when they want them.
What Readers Have Said: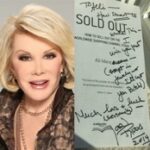 5 days before Joan Rivers died September 2014, Joan bought my first book Sold Out and wrote a message to me. She knew me from my on-air work in Toronto, Canada at Today's Shopping Choice TSC and made such an effort to send me back a shout out. Here is her note – showing her signature genuine spirit and support of women entrepreneurs. It reads:
"To Alli – So smart of you to write this. I wish you great success – (except in jewelry – or I'll cut you Bitch!). Much love and luck (seriously)
– Joan Rivers 2014"
"Pick up a copy of Alli's book "Sold Out". It is world class and a great read. An encyclopedia on how to connect, sell with integrity and it is highly instructive. She is also really funny. So, you'll be laughing while you're learning! WOW is all I have to say. It is absolutely chock-full of advice, information, principles and wisdom on how to sell yourself."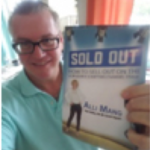 -Frank Gump, President The Frank Gump Agency
Fort Myers, Florida USA
"I loved Alli's book SOLD OUT because of its sequential organization and creative approach to sales. It's real, she's funny and entertaining and is a great read that is completely original. Everyone who wants to succeed as an entrepreneur has to read this book. Sold Out is a great book and translates to any business. I found it so helpful I bought a full case of books to give to my clients. Thanks Alli and well, done!"
-Sonia D., Financial Adviser
Toronto, Ontario CANADA
A MUST READ for every professional wanting to achieve top performance in sales!
"In Alli Mang's book Sold Out, her insightful and informative style, will guide you through achieving your full potential in sales, whether you are staring at a red light, or standing on a box in front of a crowd of people. Put Sold Out on your Need to Read list!."
-Larry Dawidowitz, Director, Dewdad Inc. (50+ year Veteran Pitch Master)
Toronto, Ontario CANADA
"I was captivated by your book. I read it in 2 days and it held my attention as if you wrote it for me only." My experience as a guest expert was intimidating at first and then shortly after I met the amazing Alli Mang on set, she told me about her book. Everything she wrote was geared to my every move, from before it was my turn to perform and sell to the viewers, right up to the end of my air-time. Because of the coaching in her book, the first time that I was on, it went like a script (that I wrote) then as time went on, that script became a conversation with the host that I was able to gear towards the features and benefits of the product. As Alli said, something just clicks and this is what happened to me. As I did my first Showstopper, I came geared with a game plan and enthusiasm and I had my very first "sold out". Thanks Alli for writing your book Sold Out and making my experience so much easier. I still refer back to the book for insight."
-Jillian D., Social Media Influencer
Toronto, Ontario CANADA
"Sold Out is the book to buy to learn how to sell! Learn from the expert that shares her secrets in a step-by-step coaching guidebook. Her organized charts provide concrete examples for a multitude of scenarios and the examples of the "game face" bring you right into center stage to apply your own vision and purpose to bring your products to the consumer. I'm giving a book to every one of my clients – it's that helpful!"
-Christine N., Director of Sales, Beauty Counter
New York, New York USA
"Sold Out is absolutely loaded with actionable material that will get the reader up on their feet to apply all the "good stuff" author Alli Mang offers. The stories that she sprinkles throughout are most effective. They play a very important and positive role in the material by presenting a lighter touch to accompany many features in the book that are highly thought provoking and educational."
-Mark O'Mara, Sales and Marketing Entrepreneur
Dallas, Texas USA
"I actually read your book Sold Out and really enjoyed it! I'm not a big reader AT ALL so that's a big compliment. Well done Alli!"
-Chris L., Sales Broker
Toronto, Ontario CANADA
---
Both Audiobook and Paperback!
The first part of the title, Your First Moment is an urgent call-to-action to make a commitment to yourself. This principle applies to everything you do professionally, as well as to what the public has the potential to learn about you. It's about the business of selling yourself: who you are, your expertise, and your reputation – which includes your personal brand. The second part of the title, Earns You More Moments, is the score sheet that tells you how well you are doing the first part. While it may seem, there is no perfect time to shift your career, or be out of work, now is the perfect time to make a commitment to yourself.
What Readers Have Shared:
"Alli Mang has done it again with her signature best friend style of writing! She provides a succinct and thorough roadmap for anyone who is looking to get work, market themselves and wanting to better their presentation skills. This is a must-have-book that is not only reassuring and motivational, it is also highly relatable, specific, solution-based, relevant, informative and educational."
-Stacey Schiffelin Co-Founder Women's Leadership LIVE
Orlando, Florida USA
"It took me 13 years to learn the principles that Alli Mang has outlined in her book, Your First Moment Earns You More Moments. It was my last Olympic games up against the best field ever assembled in an Olympic Hurdle Final. Failure after failure was just a learning experience that had prepared me for this moment. I had put my faith in an environment, in people, and in a team that took me a lifetime to assemble. Whether you are an entrepreneur, have a job in which you feel stuck, or are someone whose busy life has taken precedence over goals and dreams, this book is definitely for you. Not only will it motivate and inspire you, but it will lead you to the results you want!"
-Mark McKoy, Olympic Gold Medalist and Entrepreneur
Toronto, Ontario CANADA
"Alli provides what I believe to be one of the more creatively unique ways to quickly capture the essence of your power which will help you embrace whatever challenge is thrown at you in business. This book is a must read! Alli gives you simple problem solving procedures on how to deal clearly with issues that sometimes can keep you up at night. She also provides what I believe to be one of the more creatively unique ways to quickly capture the essence of your passion which will help you embrace whatever challenge is thrown at you. Your First Moment Earns You More Moments exemplifies exactly what I believe creates successful leaders and innovators in order to become empowered thinkers and doers. Empowered people feel they have the freedom to act and think in unique ways that allow them to stand out and take action in memorable ways."
-Justin Sachs, CEO Justin Sachs Companies
San Diego, California USA
---
The unbreakable and everlasting bond between mother and daughter, is the heart-wrenching subject of Alli Mang's third book. Alice was admitted to the hospital on Monday and the next Monday she died. The seven days that is chronicled by Alli Mang so viscerally and beautifully will have you laughing and crying at the same time. My Force of Life is a touching book and is comforting and riveting from the first page to last. It is a story of resiliency, and courage, of love and the force of life that keeps us moving forward. It is a step by step account of Alli's loss of her vibrant mother over 7 days. The shock, the sadness, the support of good friends, the grief and anger of 'Why me? Why my mother? Why now?' Thank you Alli for sharing your story and reminding us that the world is full of friendship and healing and kindness. If we open our hearts and tell our stories to each other, we are not alone.
What Readers Have Shared:
"Alli Mang's story telling is poignant and highly relatable. Her showbiz friends and the raw images she captures brings an extra flare to the story that touches the heart deeply. My Force of Life is about living and loving life as much as it is about working through the feelings of utter sadness that comes when you love someone more than yourself."
-David C., Cancer survivor
Toronto, Ontario CANADA
"My Force of Life is a touching book and is comforting and riveting from the first page to last. It is a story of resiliency, and courage, of love and the force of life that keeps us moving forward. It is a step by step account of Alli's loss of her vibrant mother over 7 days. The shock, the sadness, the support of good friends, the grief and anger of 'Why me? Why my mother? Why now?' Thank you Alli for sharing your story and reminding us that the world is full of friendship and healing and kindness. If we open our hearts and tell our stories to each other, we are not alone.
-Michael Learned, Four-time Emmy Award Winner for CBS The Walton's and The Nurse
Los Angeles, California USA
"After reading your book Alli, you made it a better day for me. I feel a bundle of emotions because I too am touched directly with this disease. Tears are flowing but only because you are not just telling your story, but the story of many. Thank you!"
-Sue W., Breast Cancer Survivor
Toronto, Ontario CANADA
"My Force of Life is a brilliant exploration of the heartache you feel when you lose a loved one. Alli Mang's writing style and rhythm creates palpable images and insights that is a delight to read. It is poignant and highly relatable. The artful and best friend manner with which Alli Mang writes will undoubtedly make you laugh and cry as her stories are touching and exhilarating. It is an unforgettable experience and read."
-Wayne M., Prostate Cancer Survivor
Toronto, Ontario CANADA
"I absolutely loved My Force of Life. In the most candid language Alli tells her story of her last days of her Mom's life. I was genuinely touched as I read this gripping story about dealing with grief. With grief, we all have one common denominator, the loss of a loved one however, the journey of grief is our own. Alli's Mom Alice elected to spend her last months of her life living rather than dying. What a spectacular read!!"
-Tristan L. D., Founder of Polk County, Wisconsin Suicide Awareness
Polk County, Wisconsin USA
"What an AMAZING read, Alli. I sat down and read My Force of Life in one sweep
without stopping. I love so many passages of your writing. How insightful and how
practical and concrete it is. You are a fantastic writer. How I wish I had known Alice…
How lucky to have been her daughter. And I can just imagine how proud she would
be of you. It's absolutely magnificent."
-Britta M-M, Former Executive Director, The Lighthouse Program for Grieving Children
Toronto, Ontario CANADA
"When I started reading My Force of Life, I didn't want to stop! I could relate to so
much of it as I too lost my brother Aldo to cancer. I could relate to the pain, the
heart-breaking and the joyful moments. I was transported back to our last days.
I thoroughly enjoyed reading My Force of Life, by Alli Mang. Alli shares her intimate
and very personal experience through the loss of her mother. Her journey
beautifully reminds us to embrace life, including the difficult realty of losing a
loved one. Through Alli, we learn that no matter how challenging and
overwhelming life may sometimes be, if we embrace and hang on to each and
every moment, those moments will change our lives forever."
Ann M-C., Executive Director, Wellspring, Niagara
Toronto, Ontario CANADA
"I have read your Soul-stirring book My Force of Life. To have known such love…for and from your Mother is a gift. The love you shared is palpable. How truly precious. The way you wrote was done in such a way…as to pull us into your reality…no holds barred. I had to fight sleep to continue the journey with you…. each night. Then, I had to read it again…so compelling was your story. You have been gifted with her strength of purpose…to continue on with your journey…of which she is an integral part. Brava Alli! You are an inspirational force who has learned to grab life and truly LIVE it. I am in awe."
-June G., Canadian Jazz Singer and Recording Artist
Toronto, Ontario CANADA
"I don't even know what to say right now other than I spent much of my day reading your book My Force of Life and feel so many things right now. I literally just finished it. I feel a lot of wonderful things and others I need to sort through. So much to grasp and hold tightly. Thank you for allowing me into your journey and for being part of mine! Wow!!
-Sarah S., Retired Oncology Nurse
Toronto, Ontario CANADA